Modern facility exclusive to the tenants of the Exchange Business Tower, but as a registered guest of the EXchange Hotel, access is available to you.*
* Please visit the front desk of the hotel for a separate passcard, and to sign our waiver form.
**Guests at the Exchange Fitness & Wellness Centre must be at least 16 years of age.
Take advantage of our Group Fitness programming, free to you as a registered guest, with the exception of Hatha Yoga, which is pay as you go.
Personal Training & and Private Yoga sessions
We offer Personal Training sessions for 30 or 60 minutes please email us at exchange@curtishealth.com (minimum of 24 hrs notice) and we will arrange for one of our trainers to meet you for a training session.  
Rates:
$45 for 30 minutes (available 6:30am-6:30pm weekdays)
$90 for 60 minutes
Group Fitness Schedule
Download schedule here.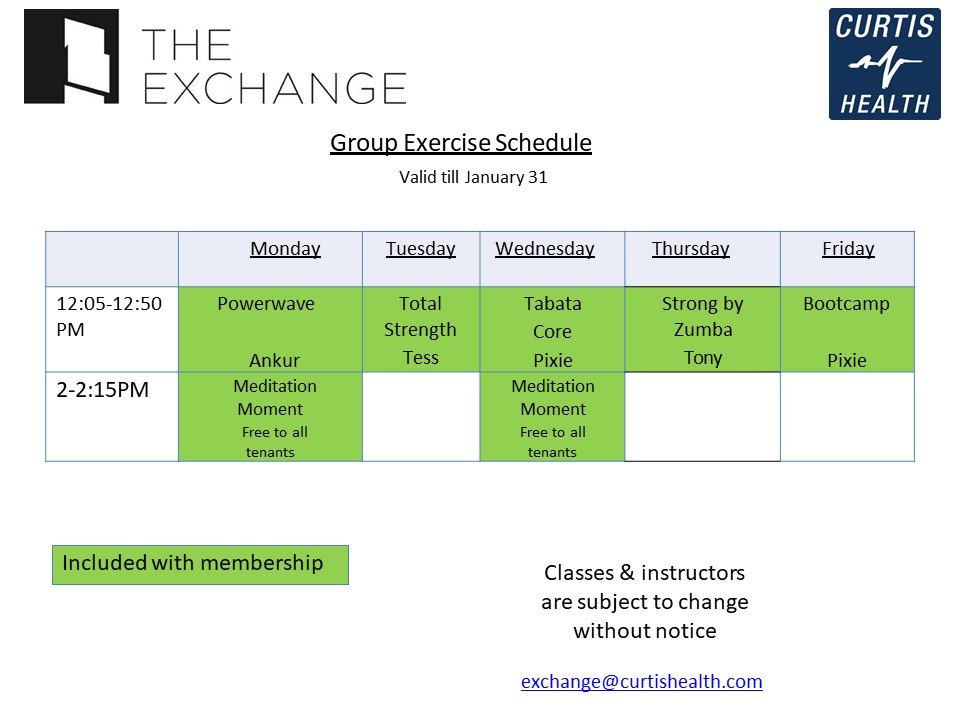 Hours of Operation
Open from 6 am to 10 pm, seven days a week.
We are one site to assist you Monday to Thursday 7am – 6pm, and Friday 7am – 2pm.
Fitness Centre Facility
The fitness centre is equipped with:
• 2 Treadmills with built-in entertainment
• 2 Spin bikes with streamable spin workout videos
• 2 Elliptical trainers, 1 recumbent bike, and a rower
• Free weights and selectorized resistance training pieces
The group training studio can be used when fitness classes are not in session, to do your personal workout or to stream a workout video from your phone or tablet to the Smart TV in the studio.
The studio is equipped with battle ropes, TRX, Rip Trainers, and chin up bars, in addition to mats, weights, steps, bosus, plyo boxes, and stability balls.
Please do not hesitate to contact us exchange@curtishealth.com or 604.669.2752