February is Healthy Heart Month.
Here are some daily practices to help keep our hearts healthy.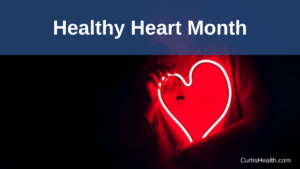 Daily exercise:

i

deally, at least 30 minutes a day, at least five days a week

Regular sleep:

Sleeping a solid seven or eight hours per night is a marker of good heart health

Healthy grains:

Examples include oats, buckwheat, barley and Millet. 

Healthy fats:

Examples include avocado, nuts, fish and flax seed. 
Time for quiet:

Taking time daily to collect your thoughts or meditation.
Plenty of fruits and vegetables:

Many vegetables and fruit are particularly rich in vitamin C and in beta-carotene, which is a form of vitamin A. These work as antioxidants in your body, helping to slow down or prevent atherosclerosis by reducing the buildup of plaque from cholesterol and other substances in the arteries.
Quitting smoking:

Smoking contributes to the buildup of plaque in your arteries, increases the risk of blood clots, reduces the oxygen in your blood, and makes your heart work harder.
Monitor blood pressure:

High blood pressure can damage your arteries by making them less elastic, which decreases the flow of blood and oxygen to your heart and leads to heart disease. 
Monitor cholesterol:

Your body needs cholesterol to build healthy cells, but high levels of cholesterol can increase your risk of heart disease. 
Did you know: "Prevention starts with knowing your risk. Nine in ten Canadians have at least one risk factor for heart disease and stroke. Almost 80% of premature  heart disease and stroke can be prevented through healthy behaviours. That means that habits like eating healthy, being active and living smoke free, have a big impact on your health." – Heart & Stroke Foundation
If you have any questions related to nutrition, seek out a Registered nutritionist or dietician. Our sister company 12 Weeks to Wellness has certified dietitians who can help you on your health journey. If you have questions about your blood pressure or cholesterol talk to your doctor.
MaryAnna xo
***********************************
MaryAnna Robbins CSEP-CPT, OFC RHEP – Group Exercise, Resistance Trainer, Yoga Fitness, Pilates Mat Fitness