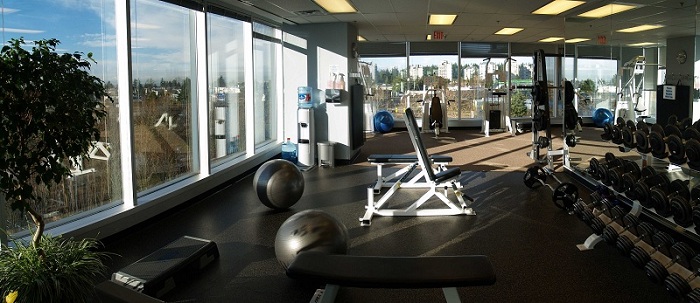 Welcome Back!
We are looking forward to seeing you back at the fitness Centre.  We have made changes to the facility to allow you to have a enjoyable workout and keep everyone safe with as few limitations as possible.  The fitness centre reopened in June with limited hours and with a limited capacity, for now the fitness classes will remain online via zoom.
To Reactive Membership
Step 1 – Read and sign the new Procedures and Policy PDF,  that outlines the changes,  once we have received this fillable PDF back with your electronic signature we will then reactive your membership and have fitness centre access added to your building access card.  Please allow 24 business hours  for access to be set up.
Step 2 – Pre-book your workout time, there is no  just showing up.  You will need to pre-book in for a workout time, there is no dropping in, this is to ensure there is enough room to follow the social distancing guidelines.  Each time slot will have a limited number of members from each tower. Bookings are for 60 minutes, if your workout is shorter that is fine, but at this time the max length will be 60 min to allow space for all members.  If a time slot is full, we will take a waiting list, and if someone cancels you will be notified automatically.  You will be able to book 72 hours (3 days) in advance.  If you are not able to make a booked workout time, and do not cancel the booking you will be charged $ 5.00.  Click Here to book your workout.
The schedule for workout times is
Monday, Wednesday and Friday from  8 to  2 pm
Tuesday and Thursday from noon to 6 pm
As demand grows, we will look at extending these hours.
In order to book a workout or join the online zoom classes you will need to reactive your membership, 
If you are not working onsite or do not yet feel safe to return to the fitness centre, not a problem your membership will remain frozen. If you are unsure about returning,  email metrotower@curtishealth.com and arrange a time to meet with us and we can tour you through the facility and speak to about the changes we have implemented.  Your safety is our #1 priority.
Please Note:
Please arrive 5 min prior to your booked workout time.  When you arrive read the sign posted just outside the door to the fitness centre, checking if you have any signs or symptoms.  If you are feeling unwell, please stay home.  As you enter  please use the hand sanitizer and check in with the front desk, prior to entering the change rooms.
Members are requested to follow the social distancing guidelines, and to wipe all the equipment before and after use.  Any member not following these guidelines will be asked to leave the facility and have their booking privileges suspended for 1 week.
If possible please consider doing your cardio workouts outside for the summer months,  if this is not possible the cardio equipment is available.
For now the Group Fitness Studio is not available to use.
Members are required to wear a mask at all times when in the Fitness Centre.
Enjoy your workout! 
Reminder
Guests and trials are not permitted due to safety and liability, we need to know who is in the facility or class. It is important everyone has filled out a waiver. Anyone, caught bringing guests, or sharing their pass will have their membership terminated.
Membership Info
Membership to the tenant Fitness Centre on the 4th floor of tower II, is exclusively available to tenants of the Metrotower Office complex. Memberships are $ 30.00 (including GST) per month, with a minimum commitment of three months. Membership fees will be charged to your credit card on the 1st of each month. To sign up for a membership please follow the instructions below.
If you would like to arrange a tour of the fitness centre please call 604.437.2037 or email us metrotower@curtishealth.com and we would be happy to set up a time.
NEW MEMBERS INSTRUCTIONS
Please fill out the Metrotower Fitness Centre Membership form. 
FACILITY & STAFFED HOURS

 Class Schedule 
The group fitness classes, Stretch and meditation breaks will continue to be offered via zoom,  if you would like to participate in this schedule please reactive ( or purchase) your membership, see Step 1 above .  We are hoping to be able to begin offering some live classes in the coming months, but will keep the zoom classes running as well, as we are realizing many people may be working part time in the office and part time at home.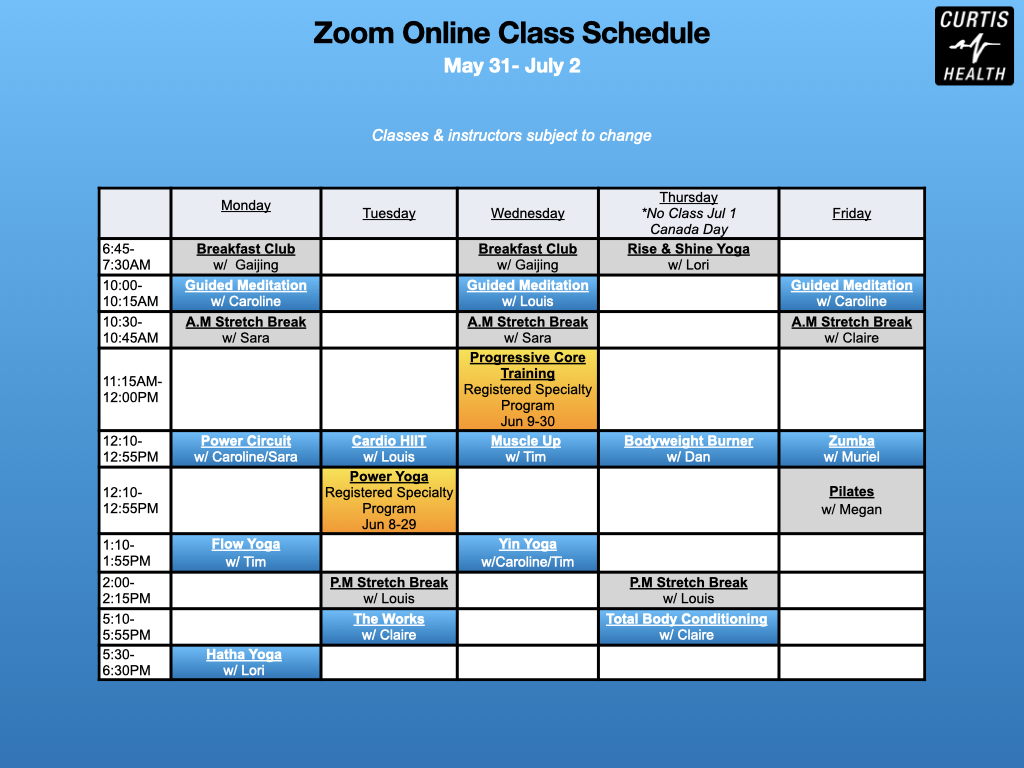 NEED HELP WITH YOUR WORKOUT?
1. All Curtis Health Coordinators are Personal Trainers. We are here to help you!
2. You can make an appointment for a free 20 minute fitness centre orientation to help you figure out seat settings and how to use the equipment.
3. Need more help than a quick overview? Inquire about Personal Training sessions for 30 or 60 minutes.
Please contact us at metrotower@curtishealth.com  or 604.437.2037 with any questions.
Who is Curtis Health?
Curtis Personalized Health Management Ltd is a fitness, health and wellness management company that assists individuals and organizations with their on-site health and fitness programming, facility design and operation. We work with individual companies to enhance the well-being of their employees and benefit the company and with Property Managers to design and operate their fitness facilities with the best service available for their tenants.
Fitness Centre members will benefit from assistance with their exercise programs, tips on a variety of wellness topics and fun Fitness Challenges.  We are here to help you with your health & wellness journey with Personal Training or just a friendly chat and a weight room orientation.  Don't know where to start?  We will help you, no matter your fitness level, or goals.
Trust and Longevity
As the most established fitness and workplace wellness management service organization in the Lower Mainland, we have created and delivered healthier performance levels and happier, balanced lives through high employee participation, greater job satisfaction and increased productivity.
 Reputation
Curtis Health has a top reputation in the industry for quality, creative programming, professionalism, stability and unparalleled service excellence.
Offering More & Exceeding Expectations
One of our core missions is to continuously offer more and exceed expectations. Over the past thirty years, we have delivered more and are driven to provide the best value for our clients.
Skills and Abilities
We are a team of professionals: kinesiologists, personal trainers, physiotherapists, massage therapists, fitness instructors, operations managers and human resources managers who bring the latest and most relevant industry information to our sites and our customers.
Our Team
Our instructors and trainers are fully certified and are trained in CPR and First Aid.  Our management team is the best in the industry. We care about our team and we care about our customers. Our aim is to go above and beyond in meeting your fitness and wellness needs at every opportunity.
We look forward to meeting you and assisting you on your journey to a healthy and resilient lifestyle.
Staff Bios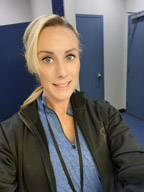 Claire Hayes – Metrotower Fitness and Wellness Manager
Claire Hayes has worked in the fitness industry for 23 years, with 20 years dedicated exclusively to individual coaching and personal training. She has dedicated 18 years of her life to competitive bodybuilding, as a competitive athlete and also competition prep coach. Being surrounded by amazing people of all shapes and sizes with a multitude of personal fitness goals, Claire has become adept at recognizing the need for personalization and realistic program instruction. There is no "one size fits all" when it comes to one's personal fitness.
Sara Zajic  – Metrotower Fitness and Wellness Coordinator