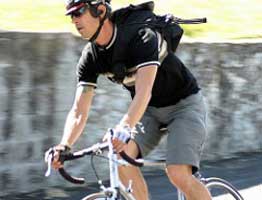 Now that the weather is getting better, it may be your time to start cycling to work.  It's an easy way to fit exercise into your day and it reduces your carbon footprint.  But how do you get started?  Here are some tips from experienced cycle commuters on how to get started and how to stay safe.
Equipment
Of course before you start to cycle commute, you'll need some equipment:  a bike (obviously), a helmet and visible clothing.  Don't spend a lot of money on your first bike – check bike stores for second-hand bikes or Craigslist, but be watchful for bike thieves.  If the deal seems too good to be true, steer clear or ask for a bill of sale.  An honest person would be selling their bike for a decent price and may be able to give you tips to get your started on your commute; expect to spend $200-$300 on a second hand bike.
As well as a bike, you'll need tools to fix the bike if you have a breakdown on the commute, as well as a spare tube to fit your tires.  To hold your equipment and your clothes for work, etc, buy a waterproof side bags or panniers in a bright colour.  Again, you may be able to find this second hand.
A NEW helmet is a must (not a second hand one) as are riding gloves.  It's hot in the summer when you are wearing a helmet and nothing is better than the breeze through your hair, but bottom line is you have to protect your head and your hands in case you fall.  You'll have to contend with car drivers and pedestrians that may not see you until the last minute, not to mention your own riding inexperience, so wear a helmet.
Visible clothing is also a must.  You don't have to go out and spend a lot of money right away.  If the weather is good, a fluorescent t-shirt will do, or just buy a light high-visibility vest for the summer.  You may find that you're only a fair-weather cyclist and once the monsoons come in the Fall, it's time to park your bike for the winter, so skip the waterproof clothing for now.  And you'll be thankful if you buy a pair of padded cycling shorts – I guarantee it!
Finding a Safe Route
Before you set out for work, do a couple of test runs on the weekend.  Bear in mind that the traffic levels will not be the same as during the week.  Find a route that is safe and time efficient.  Major routes may be time efficient but dangerous.  Look up bike routes for your city on the internet.
What do I do with my clothes for work?
Unless you ride for only a few kilometres, you'll probably have to take a change of clothes with you.  Check with your employer to see if there are showers and lockers available for cyclists.  You can always drive one day with a week's worth of work clothing and stash it in a locker or at your desk.  Leave your work shoes at work and have another pair at home for days you don't cycle, as well as your shampoo, etc.
Finally…you're ready to go!
Start cycling just a couple times a week at the beginning and if you wake up one morning and you're just not feeling like cycling, then don't.  You should be in it for the long haul, so one day off isn't going to make a difference.
Not sure? – How about booking a personal training session with a Curtis Trainer to learn about strengthening exercises and stretches that will help you get your body in shape for regular cycling?
Remember that in Vancouver BC, Bike to Work week is May 30-June 7 2016.  Check the web for dates in your city.
by Kerri McBeath