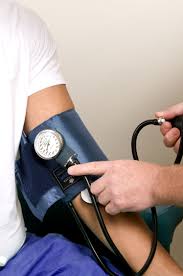 The heart is the most important muscle in your body. And just like any other muscle, your biceps for example, you need to work it to keep it strong!
Herein lays the reason to get up, move your body, and exercise for Heart Health benefits!
When your heart beats, it pumps blood around your body, transporting oxygen & energy where it is needed. Pressure from the heart beat is needed to make blood circulate – this pressure of blood flow causes resistance against the walls of your blood vessels and is considered your blood pressure!
A healthy heart pumps blood around easily, at a low pressure against vessel walls. Blood pressure readings at or below 120/80mmHg is considered good low blood pressure. High blood pressure means that your heart must pump harder and there is an increased resistance on the blood vessels. Having a blood pressure reading at or over 140/90mmHg puts you in a high risk category, and should be treated to lower those numbers.
Think of your blood vessels as a garden hose. If you block an end of the garden hose with your finger, the pressure of water inside the hose increases. This is similar to how blood pressure is affected by a blockage or narrowing of the blood vessel. If there is increased stiffness or narrowing of the blood vessel itself, there is a smaller "tube" for the heart to pump the same amount of blood through and an increase in pressure!
We need to be proactive in ways to maintain good heart & blood vessel health. Lifestyle plays a major role in managing your blood pressure. If you can successfully control your blood pressure with a healthy lifestyle, you might avoid, delay, or reduce the need for medication!
In this grand spectrum of "Healthy Living", is exercise. Exercise, more specifically cardiovascular exercise, is known to improve the strength of the heart and decrease the stiffness of the vessels. A stronger heart can pump blood more efficiently! Cardiovascular exercise is considered any form of aerobic activity – walking, running, cycling, fitness classes, etc.
Canadian guidelines suggest at least 150 minutes (equates to 30 minutes 5 times per week) of aerobic exercise accumulated per week!
That being said, resistance training is also known to decrease blood pressure! Stronger postural muscles help in keeping blood flowing throughout the body.
So, what are you waiting for?! Keep it simple – even a 15 minute walk around the block twice in your work day will help decrease your blood pressure & heart disease risk!