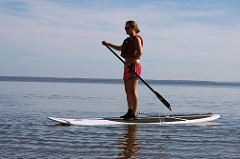 By Kerri McBeath
Remember when you were a kid and you went to summer camp?  Some may not have pleasant memories, but most kids enjoyed getting out of the city and spending some time away from their parents and siblings and getting their first taste of independence.
So this summer, how about if you send yourself to fitness summer camp?  I don't mean pack up your sleeping bag and head to Camp Lake in the Woods  – I mean while you're on holidays and away from the gym, make sure you continue working out so you don't have to get back on track in September.
To keep on track with your regular fitness workouts, you should be incorporating all the components of fitness:  cardiovascular endurance, muscular strength and endurance and flexibility.  Below are some suggestions:
Cardio Endurance:  Swimming
Muscular Strength and Endurance:
Golf (lower body and core)
Hiking (lower body)
Canoeing and kayaking (upper body and core)
Flexibility:  How about a nice outdoors yoga class? 
All over workout:  Swimming; Tennis anyone?
Remember that the reason parents send their kids to summer camp is so they can experience new things and meet new people, as well as have fun.  Make sure you're experiencing these things too.