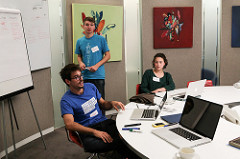 If you're just starting out in your career or perhaps continuing your career in a new company, meetings can be the cause of stress and nervousness.  Below are some tips to help you decrease your stress and impress your co-workers (and hopefully your managers):  
Try to get to the meeting room first and practice some deep breathing to calm down your nervous system.
If you're nervous about making a presentation, ask that your item be put on the agenda first.
Review the agenda prior to the meeting if possible.
Practice prior to the meeting – not just the presentation you may be making but practice responding to questions.  Ask a co-worker or friend to help you.
Try to engage your audience instead of talk at them. Ask open ended questions.
Make notes – especially action items that apply to you. If you tend to be nervous in meetings, you might forget an important detail.
Know yourself – self-reflect and find out what triggers your stress and try to eliminate it or to create coping mechanisms.