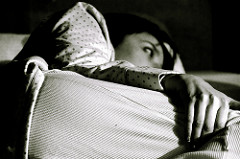 We've all been there at some time in our lives:  can't get to sleep, can't stay asleep and the next day we're a mess.  Physically and mentally.  Imagine if that continued for weeks and months?
Why do sleep problems appear to hit women harder than men?
First of all, there's our physiology.  We're the ones who go through pregnancy and menopause.  Those are killers.  If you've ever been 9 months pregnant, you know how difficult it is to get comfortable.  As well there can be other factors – that you will be responsible for another human being – that can cause stress and have an impact on your sleep.
After the baby is born, lack of sleep can affect you for years to come.  I was really lucky to have children who started sleeping through the night at 6 weeks and once they were asleep, they were down for the count (that applied in the teen years too, when getting them up for school was like waking the dead, but I digress).  Not every parent is so lucky and if you continue to breast-feed, you are the one who is getting up perhaps several times per night, not to mention the nightmares and monsters under the bed that every pre-schooler seems to be convinced exist.
Around our early 40s, when our kids are finally sleeping through the night, we begin to see the signs of peri-menopause (which can last 3 to 10 years), when our hormones are all over the place and it has a big effect on sleep. During peri-menopause (the time that leads up to menopause when your periods end) other factors can come into play that affect sleep besides hormones.  It may be a time in your life when you have concerns about your teen children, your marriage or your career.  This can weigh heavily on your mind and cause to you to lose sleep.
Are we destined to be sleep-deprived for most of our lives?  What can we do to get more sleep on a regular basis?
During Pregnancy
To avoid extra trips to the bathroom, limit fluids in the evening, especially within 2 hours of bedtime.
If you're suffering from leg cramps, talk to your doctor about supplements of magnesium.
If you're suffering from back pain, place a pregnancy pillow between your legs and try to sleep on your left side. Try some gentle core exercises to help support your back.
Have a calming bedtime routine that can include breathing exercises and meditation.
Turn off your phone, TV and computer at least one hour before bed.
Post Pregnancy
Sleep when you baby is sleeping. The house doesn't need to be THAT clean.
Say yes to help – from your partner, your family and friends. Don't be a domestic hero.
Pump breast milk so someone else can feed the baby.
Try a post natal yoga class
If you're having feelings that you can't cope with, seek professional help.
Peri-menopause
Take a nap but limit the length to a couple of hours and prior to 4pm so it doesn't affect your circadian rhythms.
Lower the temperature of your bedroom. Add a fan, a cooling pillow and wear cotton clothing…or nothing at all.   Keep a couple of beach towels handy to put on the bed if you wake up sweating,  so you won't have to change the bedding.
If possible, consider moving to another bed. If you think you're disturbing your partner, it will help you relax and sleep, as well your partner's activity won't disturb you.  Ditto with Fido and Fifi.
Try some tai chi, meditation or yoga. If that's not for you, hit the gym during the day.  Exercise will help you sleep.
You might want to consider short-term Hormone Replacement Therapy or HRT.  I tried it, but it really upset my stomach and I gave up after a month, but it might work for you.  Talk to your doctor.
Resources:
www.everydayhealth.com/sleep/other-disorders/disorders-that-disturb-sleep
www.webmd.com/women/features/how-sleep-loss-affects-women-more-than-men
www.parents.com/baby/new-parent/sleep-deprivation/how-to-get-sleep
www.besthealthmag.ca/best-you/sleep/6-reasons-for-your-insomnia-and-how-to-beat-them
www.healthywomen.org/content/blog-entry/menopause-playing-havoc-your-sleep
www.womenshealthmag.com/mom/best-sleep-aids-for-pregnant-women