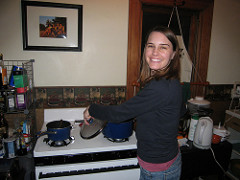 I've always been interested in cooking.  As a child, I remember watching the Galloping Gourmet with my mom after school.  It was the drunk version – the host enjoyed QUITE a few glasses of wine and the show was very entertaining. Later the host became a health nut and the show became humourless.
Fast forward and the Food Network is one of my favorite channels.  I've learned to be brave with ingredient combinations by watching Chopped; different kitchen skills on Worst Cooks in America; and what NOT to eat on Diners, Drive-Ins and Dives.
A lot of people will say they don't have time to cook, but the benefits will far outweigh the time you devote to it.
The benefits of cooking your own food are numerous:
You know exactly what goes into your food. No more ingredients that you can't pronounce.  You'll be able to create healthy meals for your family.
If you're short on family time, cooking can be a great way to spend time together.  Not just that, but you can teach your children about healthy food choices.
Cooking is also a creative act. You'll get so much satisfaction out of taking ingredients and turning them into something else.
If you're stressed, cooking can be a physical de-stressor. Think about the fun of kneading and punching bread dough.
Cooking can be your meditation. If you're like me and have trouble shutting off the brain and body, let the act of cooking be your moment of mindfulness.
If you're life is chaotic, an orderly kitchen can be a place to escape.
Cooking helps your self esteem. Nothing like a lot of praise for a delicious meal to feed your soul and your ego.
What if you've never cooked or have had a previous bad experience in the kitchen?  Here are some suggestions:
Start simple. There are a lot of websites that rate their recipes by difficulty.  Start with a couple of easy ones that have fewer ingredients.  Read the recipe all the way through before beginning.
Take some cooking classes. Look for words like "basic", "beginner" or "simple" in the title.
Find yourself a family member or friend who will taste your dishes and give you honest feedback in a kind manner.
Buy a couple of cookbooks for beginners.  Click here for some choices.
Check out Youtube. There are a lot of demos to choose from.  Watch the Food Network.
Spend what you can afford on a few good quality pieces of equipment. You'll need a chef's knife, a non-stick sauté pan, a cutting board and a large pot for boiling.  Avoid the gadgets.
Remember to be patient with yourself.  Try a recipe at least a couple of times to become familiar with technique and cooking vocabulary.  Good luck!