Each of the four seasons brings change and focus along with it. In the fall, we wind down summer trips and enjoy our last lazy days by the pool as we prepare for the air to cool, the sun to set a little earlier each day, and for parents, the start of a new school year. In the winter, we physically and mentally prepare ourselves for chilly weather and get excited about the upcoming holiday season. In the spring, we wake up from our winter slumbers and anxiously await the warmth of the sun and the new growth that comes along with it.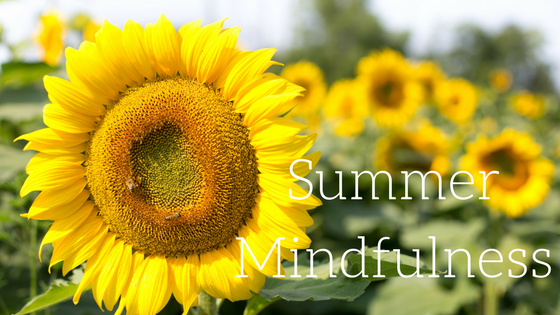 But what about the summer? Along with increasing temperatures and the excitement of upcoming vacations, it's easy to forget to take time for yourself each day. Summer is about increasing your energy and creating joy in your life. When we hear of seasonal effective disorder, summer is usually the last season on the list.
So how can you use mindfulness to help balance summer days?
Spend time outside. While too much of the sun's warm rays can be harmful to your skin, the right balance can have lots of mood lifting benefits. According to a Harvard Medical Study "sunlight and darkness trigger the release of hormones in your brain. Exposure to sunlight is thought to increase the brain's release of a hormone called serotonin. This is associated with boosting mood and helping a person feel calm and focused."
Imagine your favorite summer place. Feel the warm sun, the sounds and the smells that surround you. Smile slightly. Let the feeling of this perfect place swirl throughout your entire body. Fell yourself becoming more relaxed with each exhale.
Know when to slow down. In summer, it is easy to get swept up in upcoming travel plans or the stress that comes along with covering for coworkers who have their own. Take time to step away and re focus. Take a walk. Call a friend. Exercise. Our brains work better when we give them the intermittent breaks they need.
Try something new. Summer is about fun and excitement. Do something out of the norm, or start to check things off your bucket list. Capitalize on the spontaneous energy that summer offers.
Practice mindfulness daily, and make this summer one to remember!