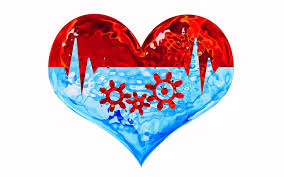 Good Cardiovascular health requires good circulation as blood carries oxygen and other essential nutrients to the body cells while removing cellular waste and toxins. In order to effectively do this your blood vessels, need to be strong, flexible (relax and contract) and free of blocking debris.
Cholesterol often gets blamed for poor CV health however recent research is finding that inflammation and diets high in refined carbohydrates and sugars are major contributing factors to poor CV health.
Cholesterol is essential for life. It is present in every cell in the body and is crucial for:
Strengthening cell walls
Aiding in the exchange of nutrients and waste across cell membranes
Maintaining the myelin sheath in central nervous system
The production of cortisol and reproductive hormones
The production of bile for the breakdown of fats
The production of vitamin D from UVB sun rays.
Lipoproteins carry cholesterol through the blood stream. Low density lipoproteins (LDL) carry cholesterol from the liver to the blood stream while high density lipoproteins (HDL) moves cholesterol from the blood stream back to the liver.
LDL particles, which are often referred to as 'bad cholesterol', come in two sizes, large and small. It is the small dense LDL that are most damaging if left in the arteries and can contribute to arterial disease. Balance of the HDL and LDL is important to limit any buildup of blood cholesterol in the blood stream.
Exercise directly impacts lipoprotein metabolism by increasing HDL and decreasing the small dense LDL and triglycerides. (Triglycerides are part of small dense LDL process)
This positive change from exercise is not permanent though and therefore exercise must be repeated on a regular basis. The frequency and duration of exercise is more important than intensity when it comes to balancing cholesterol levels.
Diet is important in maintaining good CV health as it can effectively decrease small dense LDL particles. Recommendations for healthy cholesterol levels include:
Consume high fibre foods, found in vegetables, fruit, legumes and whole grains. Fibre can act like a sponge and remove cholesterol from the gut.
Eat Vitamin C foods (berries, cantaloupe, kiwi, mangos) as vitamin C decreases LDL and increases the strength and compliance of blood vessels.
Ensure good gut flora. Healthy microbiomes assist in decreasing LDL levels. Eating fermented foods such as sauerkraut, kimchi, kombucha can support healthy gut flora.
Consume copious amounts of garlic, onions, celery, raw walnuts and almonds. These foods decrease LDL and triglycerides and increase HDL.
Eat a variety of colorful fresh fruits and vegetables for a high intake of antioxidants. Antioxidants help the body detoxify damaging free radicals
Increase consumption of dark leafy greens
Drink lots of filtered water
Reduce the intake of refined carbohydrates and sugars. These foods increase blood sugar levels and contribute to the liver converting the extra blood glucose to cholesterol and triglycerides. They also contribute to overall inflammation in the body.
Avoid all trans fats – hydrogenated and partially hydrogenated fats. These are found in most processed foods.
Replace coffee with green tea as green tea decreases LDL. Green tea does still contain some caffeine so be cautious of intake.
Consume moderate amounts of healthy fats such as olive oil, avocado oil, sesame oil and grapeseed oil.
Avoid processed foods as they are high in refined carbohydrates, sugar and unhealthy fats. All of which contribute to high LDL levels.
Stress hormones increase blood glucose levels and therefore contribute to inflammation and increased LDL and triglycerides. Managing stress can have a direct effect on decreasing LDL levels.
Laugh often!! Laughter dilates small blood vessels which can improve circulation! J