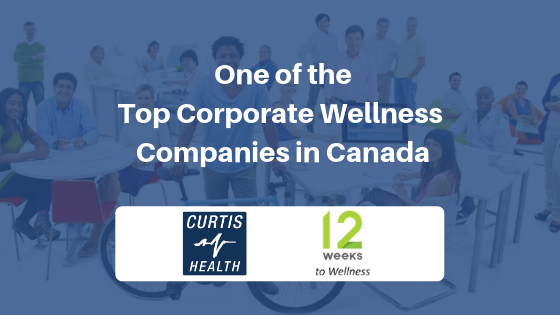 For Immediate Release:
[Vancouver, British Columbia – Feb 1, 2019]
Curtis Health, a Vancouver-based workplace health and wellness provider, has been named one of Canada's top wellness companies by CoreHealth Technologies, a wellness technology vendor.
"As a leader in individual and Corporate Health and Wellness since 1985, we have built a foundation of creative programming, unprecedented service and proven, effective health promotion and wellness solutions. These services include a full scope of individual and corporate fitness, health and wellness services, fitness facility management, space planning and operations," says President, Charles Curtis.
Curtis Health, and its partner 12 Weeks to Wellness, provide shared wellness and health coaching services to a variety of industries and organizations including technology, gaming, government, utilities, manufacturing and transportation as well as Employee Assistance Providers and property development / business park fitness facility management. Curtis Health currently provides these corporate health and wellness services to over 12 companies and multiple properties, office towers business parks onsite, encompassing more than 28 fitness centers.
"We are very proud of our accomplishments and how effective we are in making a positive, notable difference in the well-being and health or our clients and their employees. We are committed to evolving our workplace wellness programs to meet the unique needs of each of our clients," says Curtis.