Time is ticking. You rushed over to the gym during your lunch break and you are motivated to get a challenging workout in before the hour is over.  Your energy level is high and you are mentally focused.  You consider skipping your warm up and getting into the intense stuff from the get go.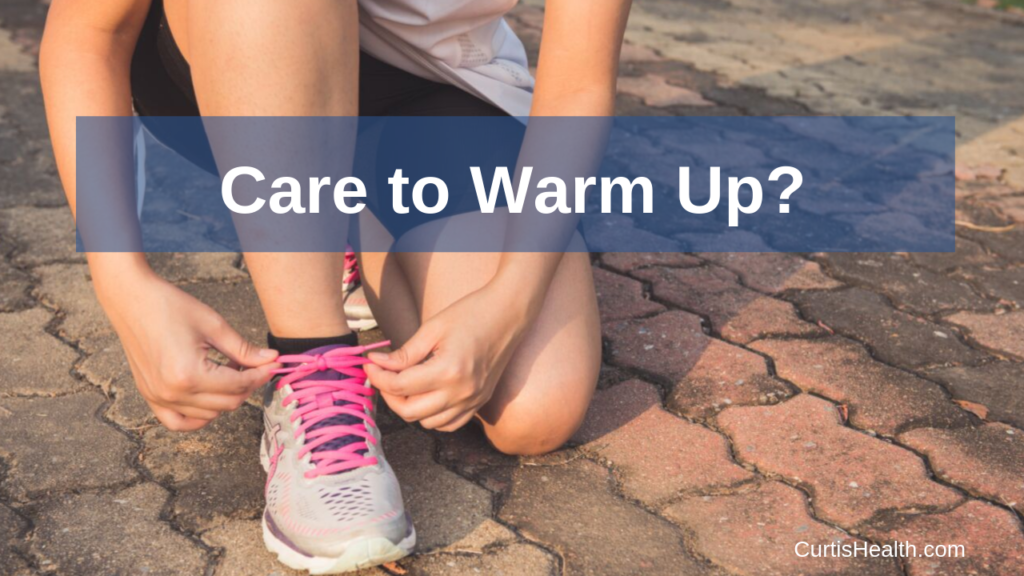 Don't skip your warm up.  Ever.
What's the point of the warm up anyway?
The warm up is important because it increases blood flow to the working muscles and prepares the body for intense exercise by increasing breathing rate and lubricates the body's joints, which decreases the risk of injury.  Whether you are a beginner, an avid exerciser or a seasoned athlete it is beneficial to incorporate a warm up before cardio exercise, resistance training or flexibility movements.
How to warm up
Start with a general warm up of 5-10 minutes of light aerobic activity that is low impact and low intensity.  Aim for 40-50 percent of your heart rate maximum*.  From a scale of 1-10 (1=very easy; 10=very hard), aim for a constant 3. *Heart Rate max = 220 – your age
Move on to a Specific warm up of 2-3 sets which precedes your working sets.  Typically, warm up sets will mimic the exercise to be performed during the working sets. Ex. warming up with bodyweight squats before performing barbell squats.  Aim for 50 percent of your 1 repetition maximum. (Not sure how to calculate your 1 repetition maximum? Here's a helpful formula)
Repetition Maximum = W x 1.44
 W = This is the weight lifted in pounds (lbs) for a set of 12 repetitions to fatigue
**formula based on Brzycki 12 RM submaximal method
So take 5-10 minutes at the beginning of your workout to prevent injury.
For more warmup guidelines or ideas, talk to your Curtis Health coordinator!
Canfit pro text book 5th edition