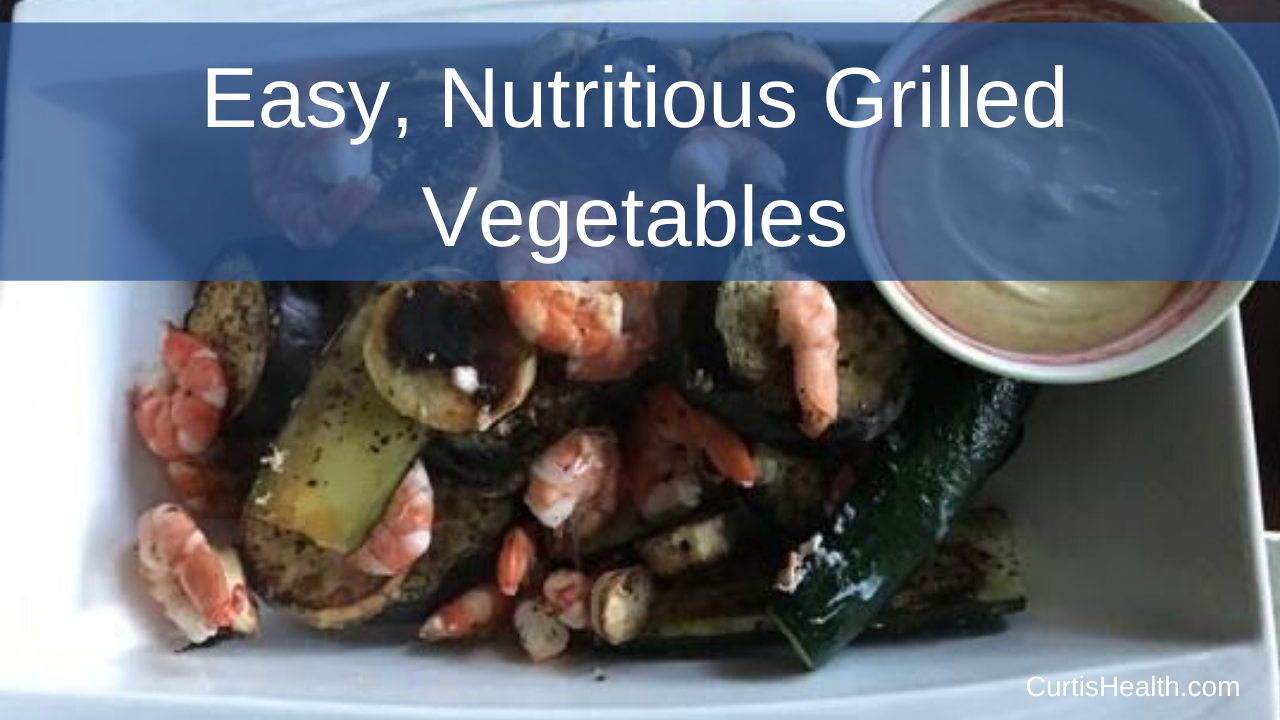 Some folks will come out of self-isolation as great cooks, others will be relieved to have restaurants open again. Coming up with yet another nutritious meal can seem overwhelming, especially when a quick shop for that missing ingredient is not as convenient as it once was.
Eating good quality nutrient dense foods supports our immunity and our mental health, both of which are of utmost importance at this time. Colorful fruits and vegetables contain an abundance of antioxidants that protect the body's cells from free radical damage. Most vegetables are not expensive and can be easy to prepare.
One such easy and delicious recipe is 'Grilled Summer Bounty with Lemon-Herb Mayonnaise' from Eat Complete by Dr. Drew Ramsey. Dr. Ramsey is a leading psychiatrist who researches and promotes the important connection between food and brain health. He uses a nutrition-based approach to his clinical treatment. This dish contains an abundance of antioxidants, selenium, potassium, vitamin D, vitamin C, vitamin A, vitamins B6, B2 (riboflavin) and B9 (folate), potassium, manganese and lycopene a potentantioxidant found in tomatoes.
When I made this dish, I didn't have all the vegetables at hand so I used what I had in the crisper. I added a sweet potato and jumbo shrimp to the recipe and made it a meal. The homemade mayonnaise is not difficult to make and is delicious!
Mayonnaise
1 extra-large pasture raised egg (room temp)
1 cup light olive oil
1 tsp salt
½ tsp Dijon mustard
1 garlic clove
zest of 1 lemon
2 TBSP fresh lemon juice
¼ cup chopped fresh herbs basil, tarragon, parsley. (can
use dried)
Put the egg, oil, salt, mustard and garlic in a jar and allow the yolk to settle to the bottom.
Using an immersion or stick blender insert the blender top into the jar making sure it stays below the oil
and rests on the bottom. Blend for about 30 seconds, without lifting the blender head, until a thick pale
mayonnaise forms. Blend in the lemon zest and juice and add the herbs. Refrigerate in an airtight container,
up to 5 days.
Vegetables
1 eggplant cut into 1" thick slices
4 Portobello mushrooms, gills removed
2 Zucchini cut into 1" thick slices
1 red bell pepper seeded and quartered
4 tomatoes halved
2 tablespoons mixed herbs (your choice)
½ tsp salt (I use sea salt)
¼ tsp fresh ground pepper
Preheat a grill over high heat. Spread the veggies on two ungreased baking sheets and coat both sides with
a small amount of oil (I prefer a high smoke point oil such as avocado oil. I use a brush to apply.)
Sprinkle with 2 tablespoons herbs, salt and pepper and transfer to the grill. Grill for 4-5 minutes, turning until
soft, first removing the softer vegetables such as the tomatoes. Transfer to a platter and serve with mayo dip.