Everyone at some point or another has experienced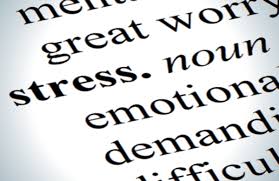 symptoms of stress. Stress is a word we use to describe both how we feel and what is happening around us. There are many levels of stress, both positive and negative. Some of the positive stresses include the anticipation of an exciting event, the pursuit of a goal, or even a challenging workout. Some of the negative sources of stress include the heavy pressures we can feel from the outside world and those we place on ourselves.
Why do we stress?
While we relate to the symptoms and triggers of stress, understanding what is happening on a physiological level is an important piece in better managing stress.  Let's take a closer look at the purpose of stress. Stress is a survival response. It is a programmed instinct to survive in the presence of danger. This is a valuable and necessary trait, but issues arise when this response is over productive, causing our health to suffer.
Our world has changed immensely over the course of human history.  Our physical survival is not threatened the way it was thousands of years ago.  However, our physiological response to stress remains the same.
Unfortunately, today's high pace creates an onslaught of potential stress triggers. While we may consider stress a part of life, the fact remains that our physiology doesn't understand the difference between some of these triggers and a life threatening situation.
The good news is we can use this knowledge as power and begin to take stress management more seriously. We can make stress reduction a priority and employ tools to act vs. react to situations. Stay tuned for much more on Mindfulness from Curtis Health!
by Caroline Cretien
Curtis Health