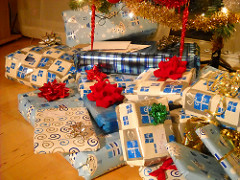 The holiday season is intended to be a time of spending time with family and friends, eating delicious food and participating in traditional activities.  Unfortunately, depending on your current financial situation, it can be a time of great stress, as you try to maintain spending levels of previous years.
Just as social expectations can create stress, so can financial ones:  you may have suffered a job loss in the last year; you may feel you need to compete with family and friends in terms of gifts or entertaining; you may have let the holiday season sneak up on you and you may not have created a financial plan for spending.
Whatever the reason, financial stress can cause you to dread a time that is hard for any of us to avoid.  Christmas is pretty much everywhere.  So what can you do to avoid that feeling of impending doom?
It's a little late at this point, but try to create a budget for holiday spending.  Include gifts, entertaining and travel expenses if applicable.   If it's too late for this year, start planning for next year – buy gifts throughout the year so the expense is not all at one time.
Ditch the credit cards and pay with cash or debit.  You'll be more attuned to what you're spending.
Talk about finances with your family, including your kids.  Let them know that the gifts you'll be giving will be small and thoughtful.  Make gifts for your loved ones if possible.
Now is a great time (if you haven't already) to teach children the difference between "want" and "need".
Make the focus of the season about togetherness – organized outings that don't cost anything or have a low cost attached, like riding the local Christmas train.
Volunteer – helping those less fortunate will give you perspective on your personal situation.
Remember if you feeling overwhelmed, the season only lasts a few weeks and you can always go for a brisk run or walk to combat those feelings of stress.  Happy Holidays!
Resources:
www.yoyomama.ca
www.moneying.com
www.greenchildmagazine.com
www.beliefnet.com