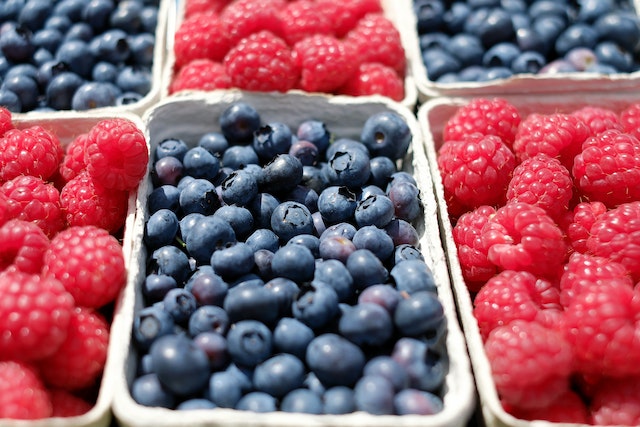 Berry season is here and there are so many to choose from. Strawberries, blueberries, and raspberries are the main ones, but there are also salmonberries, huckleberries, and blackberries.  Many of them you can find out in the wild and save yourself a fair amount of money.  Berries are a very healthy food that we should all be consuming regularly.  They are high in antioxidants, vitamin C, and fiber.  Berries help reduce cholesterol, blood pressure and oxidative stress.  
Berries can be costly in the winter months, so may hear people say they cannot afford them. To avoid the high costs I suggest, picking them local in the summer, that way you can store up enough in your freezer to get you through the winter months. If you don't pick enough of then buy them frozen at the grocery store as they will cost less.  Here in BC you can find salmon, thimble, and blackberries out in the wild.  My family and I do our best to pick as many blackberries as we can so we can store up for the winter its a fun family outing. 
The best ways I like using them are on top of oatmeal, eating them raw, and adding them to smoothies. 
*********************************
MaryAnna Robbins CSEP-CPT, OFC RHEP – Group Exercise, Resistance Trainer, Yoga Fitness, Pilates Mat Fitness